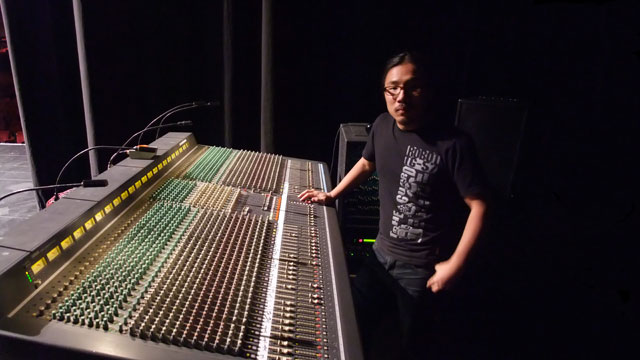 Hi, I'm Mas.
I'm a professional Live Sound Engineer, Web Developer, and Media Artist based in Los Angeles.
My freelance services include:
SOUND ENGINEERING
FOH / Monitors Live Sound Engineering
Systems Engineering
Production Coordination for Live Concerts and Events
Mixing & Mastering for Recording Projects
Sound Mix for Video Projects
WEB DEVELOPMENT
Custom WordPress Theme Development
Custom Drupal Web Development
Webmaster Services
JAPANESE / ENGLISH TRANSLATION
As a live sound engineer, I have run over 500 events including music festivals, outdoor concerts, club performances, tours, theatre productions, weddings and corporate functions. With a double major in Electrical Engineering and Computer Music from Brown University, I know audio equipment inside out. And, with my background as a musician, I understand the needs of performing artists and strive to capture the purity of their sound regardless of the idiosyncrasies of the venue or equipment. I've worked with hundreds of established and emerging artists, bands, and professional speakers including the Black Eyed Peas, Prince, and Diddy. It's my goal to create an environment where artists can fully express themselves and the audience can fully appreciate their art.
As a native Japanese speaker, I also offer support as a technical translator. With substantial professional experience in audio production, lighting, and video, I can help Japanese speaking artists and production teams communicate to English speaking crews and vice versa. I have worked with different Japanese artists and theater groups, such as Jin Akanishi and Zenshinza Theater Company as a sound engineer and technical translator.
I have studied music all my life and have always been drawn to technology. These interests led me to pursue a career as an electronic music composer and media artist. I own a small Protools-based home studio where I work on my own craft, and offer my services as a mixing / mastering engineer on recording projects, and sound mixer for video projects.
I also work as a freelance web developer specializing in developing custom WordPress Themes. I am familiar with coding in HTML, CSS, Javascript, and PHP.
I am patient, courteous and detail oriented in everything I do, since my work is dedicated to bringing your sound and your vision. Contact me for a free consultation. In this session, I'll help you quickly determine your production needs so you can focus on your event or project.
– Mas