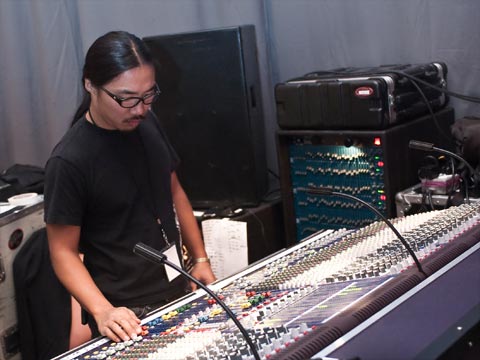 Masahiko Sunami is a Live Sound Engineer, Web Developer, and Media Artist based in Los Angeles.
Originally from Tokyo, Mas trained as a Classical Clarinetist, Jazz Saxophonist, Ghanaian Drummer and Hindustani Sarod Player. This extensive music background, combined with his degree in Electrical Engineering and passion for computer technology gives him the unique ability to understand sound from both a technical and artistic perspective. He brings this experience and musical sensibility to every live event and recording project he works on. He has worked over 500 live events for artists including the Black Eyed Peas, Prince, Diddy, Ozomatli, and War.
Mas began learning classical music and jazz when he was 5. While studying Electrical Engineering at Brown University, he discovered electronic music and realized he was more passionate about music than engineering. After getting a Bachelor of Science Degree in Electrical Engineering and Computer Music from Brown, he decided to continue his studies at California Institute of the Arts, where he did a graduate program in Music Composition / New Media. At CalArts, he deepened his expertise and artistry in computer music, while expanding his repertoire through studying world music: African music, Balinese gamelan, Ketchak and North Indian music. He also started his career in concert production by managing the CalArts ROD Concert Hall.
Mas has worked in concert production since graduating from CalArts in 2003, and now works as a professional live sound engineer. His interest in new media technologies also led him to learn programming for web. He has developed custom WordPress and Drupal websites, in addition to setting-up ecommerce and email marketing solutions for small business owners and entrepreneurs. He is the Lead Developer for Live Your Message.